A Local's Guide to Nashville – Off the Beaten Track
Our home city of Nashville is white-hot at the moment, and has recently been topping the charts of best cities to live, visit, move to, etc in the nation. While all that is great (and certainly helps our property value), it has honestly started to become a little too touristy and crowded in places. Therefore, I put together this carefully crafted list of our local favorites where you won't end up in long lines, have to leave your wallet behind, or be self-conscience that you are paying for the hip decor rather than quality food/merchandise. Consider these "deep cuts" on the mixed track of your music city visit:
Restaurants:
Vn Pho – Easily the best Vietnamese Restaurant in town. We love the grilled chicken vermicelli with freshly made limeade. The banh mi with freshly baked, crispy baguettes are phenomenal, only $3.50 each, and are my vote for best sandwich in town. Note that the restaurant is small and cash only – be prepared.




King Market – It's fast, fresh, clean, full of veggies, friendly and affordable. Even though it's in a quieter side of town and the restaurant is at the back of an asian market, there is almost always a crowd. You won't find a single tourist here and I get the feeling that most people who come here tend to come back time after time. We usually order the curry, Thom Yum, Pad Kra Pao, Pad Kee Mao, Pad See Uew, or Pho but most items are tasty.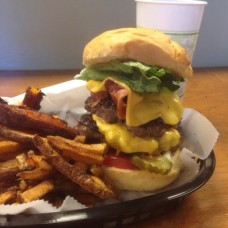 Gabby's Burgers – I haven't eaten much red meat in the past couple years, so I'll grant that I am less qualified here than elsewhere. However, the burgers at Gabbys – juicy and delicious on soft yeast bread and a plate full of yummy sweet potato fries – are the best that I have had in Nashville. Since you're in Nashville, grab some sweet tea to go with it. Again – this restaurant is more regulars than newbies, so you don't have to just trust me that it's good. Another great part – IMHO – no waiters to pay! Note that they are only open for lunch most days so be sure to check the times before you visit.




Chinatown – if you love Chinese cuisine like we do then you'll find a distinct void in the Nashville culinary world. Chinatown is a lone star in the lineup. I am recommending it solely for the traditional chinese dishes – don't let the reviews on Yelp about the General Tso and Sesame chicken mislead you into thinking this is just a Panda Express look alike. Order traditional dishes like the garlic eggplant, mapo tofu, crispy fice, black pepper shrimp, etc and you will be well pleased. Also, be prepared that there is a 50/50 chance you will get an odd waitress who will bring you your check roughly 3 min after ordering, is a slight control freak, and checks in on you way too frequently; consider her an amusing part of the experience 🙂




DeSano Pizza Bakery – Wonderful Neapolitan pizza with legit Italian ingredients sourced direct from Italy. Everything is spot on, particularly the meats. What makes it even better are the large tables, quick service (the pizza ovens – also flown in from Italy – operate at a zillion degrees and cook a pie in 2-3 min flat), no waiters to pay and best of all – BYOB! DeSano  is definitely a crowd pleaser and I have not met anyone who does not like it. Since this recommendation is close to all the action of downtown, I might avoid it on a weekend night unless you don't mind a short wait.



Entertainment:
The Well Coffee Shop – There are many coffee shops in Nashville to choose from and most of them are very good. This one is the most convenient to our house and happens to be our favorite. The baristas are always experimenting and come up with fun creations such as the "cozy sweater" and "fireside", both winter time, spiced and creamy espresso type drinks. The atmosphere varies throughout the day – busy in the morning and lunchtime, but increasingly quiet and chill toward the evenings. It's hip but not as trendy or elitist as some of the East Nashville shops. Most importantly, it was created with a mission – to use a portion of the profits to build wells in developing countries. Now you can feel good about spending $4 on a coffee! Note that there are two locations now, I believe, but the Old Hickory Blvd location is larger, less crowded, and more convenient to the interstate.




Black Abbey Brewery – Micro breweries are springing up seemingly everywhere in town, but my suspicion that the motivation for most of entrepreneur owners is more about riding the nice wave in popularity as opposed to producing the best beer. Maybe I'm just jealous because I'm a home brewer and think like it would be alot of fun… Anywho, the guys at Black Abbey started as home brewers doing what they loved, and not as business men. The brewery and tasting room are simple but the beers are great. They are all Belgian style ales (my favorite), simple and clean tasting, and unlike other new breweries in town, hop levels are balanced (not trying to mask poor brewing technique). Go to Yazoo brewery while in town as well.




The Station Inn – This place was hip before hip became a thing. All bluegrass music all the time, it's housed in a small cinderblock building in what used to be an outlying part of downtown. Fast forward to today and it's surrounded by high-rise condo buildings where rents for a one bedroom apartment approach $1,500-$1,800/month. It's a proud reminder of what makes Nashville unique and something that needs to be supported, especially for the great music.




Belcourt Theatre – This is Nashville's art movie theatre (or "cinema"), and a non-profit organization was setup to keep in running and away from the bulldozer. Come here for the atmosphere and something a little different from the normal. There's pizza and beer for sale in the foyer. It's in a fun walking area and is a good alternative to sight-seeing on a rainy day.




Live on the Green – Free concert series in the Public Square Park in downtown Music City. The crowd gathers in the grassy area of Public Square Park, surrounded by food trucks, to enjoy performances from local as well as national artists. I would say most artists would fit into the indie/folk/alternative genre, but with three bands each night spanning around 6 weeks, there is usually a good variety. My guess is that most tourists don't know about this one, but in the past couple years it has really picked up in quality of artists and attendance. Hopefully it doesn't get too much more crowded since it's about to overflow the venue…



Attractions:
Radnor Lake – This recommendation is not too deep a cut – at the moment it's around #7 on things to do in Nashville on Tripadvisor – but it is so peaceful and beautiful that it really deserves mention. Most people visit the Warner parks or Cheekwood (which is mainly gardens and you have to pay dearly to visit), but Radnor never seems to be that crowded. The center of the park is a beautiful lake with lots of fiery colored leaves in the fall. No dogs are allowed on the trails and it is somewhat of a haven for deer, turkey, beavers, hawks, migratory birds, etc. We routinely count deer in the dozens each time we go for a hike, and they are so tame that you can walk within 5-6 feet of them without spooking them. There are hiking trails around the lake, but be sure to check out some of the ridge hikes if you have the time and energy! It is beautiful at all times of year.




McKay Used Books and CDs – It's the best place to go in Nashville for media – they have used books, cds, movies, vinyl, and lots of other stuff now. I literally grew up with this store – it started in my hometown of Knoxville in a strip mall (my mom taught the owner's kids), but gained popularity rapidly and now it is in multiple cities through TN. The Nashville store is a bit of a drive – probably 15 min from downtown – and is a huge warehouse with aisles 6-7 foot tall of shelves. Since everything is used, the prices are generally much cheaper than retail, although in recent years they have started to more aggressively price items. Some items are a real steal however, for instance if they have multiple copies of a book, or in their "scratched" CD section (usually these are perfectly fine and completely worth the risk of a quarter or 50 cents). Although it's a shop, I would say that it's unique enough to list as an attraction.




Marathon Motorworks Village and Antique Archeology (the Nashville Pickers Store) – This is an old car factory from the early 1900's that was renovated a decade ago for retail and office space. There's a small distillery inside called Corsairs (don't bother with any of the booze except perhaps the gin but they do have a great patio for enjoying a beer), as well as a music venue and my personal favorite – the Nashville store of the Mike Wolfe of American Pickers fame (a show on the History Channel). It's also just a cool old building – very photo worthy.




Old Franklin – Quaint little town about 20 min south of Nashville, perfect for an afternoon walk, especially in the fall. Most of the houses are on the historic registry and very picturesque. There are a lot fun shops to walk through centered around a main square. JJ's wine bar is a very chill wine bar, and we also enjoy Frothy Monkey coffee shop. It's much less touristy then other parts of Nashville. Be sure to stop by the tourist bureau as Franklin is somewhat of a hub for all the many activities south of Nashville.



Come on down and enjoy Nashville!